It's been a touch over 12 months because an alliance of 500 Amazon personnel first petitioned the organization to desert its contracts with authority companies. Now, the protests are ramping up once more. This week, the 2018 petition recirculated inside Amazon to the We Won't Build It email listing and different worker useful resource businesses in a letter that blanketed needs to forestall groups, like data firm Palantir, that contract without delay with ICE from using Amazon Web Services era, and a pointed call to movement: "take a public stand in opposition to these human rights violations and make a declaration setting up their function against the ICE camps, mass raids, and deportations." Sources within the employer advised BuzzFeed News it became stimulated through the latest information reports about the terrible situations in Immigration and Customs Enforcement (ICE) detention facilities and threats of upcoming deportations.
Amazon, which typically takes a superficial view of such worker outcry, has not indicated that it will reconsider offering offerings to Palantir and other law enforcement organizations. The organization argued that the authorities must determine the "proper use" of the technology it sells. "As we've said often and preserve to agree with strongly, companies and government corporations need to use existing and new era responsibly and lawfully," Amazon stated in an assertion to BuzzFeed News. "There is sincerely a need for extra readability from governments on what is an appropriate use of AI and ramifications for its misuse, and we've supplied a proposed legislative framework for this. We continue to be eager for the government to provide this additional readability and legislation and could retain to offer our ideas and particular recommendations."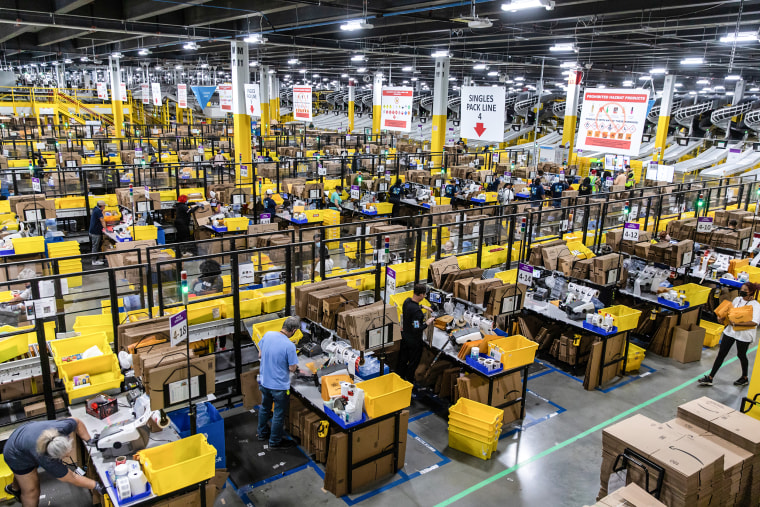 Protesters opposed to ICE interrupted an Amazon conference in New York on Friday, the Wall Street Journal stated. On Monday, activists with the equal message plan to protest outside Amazon CEO Jeff Bezos's new condo in Manhattan, in keeping with a press launch. Monday is Amazon Prime Day, the event of a sale that 2018 generated over $ 4 billion in sales for the retailer. Notably, opposition to government contracts isn't constant across all Amazon personnel. Following this week's We Won't Build It letter, some personnel stated they opposed selling technology to regulation enforcement commonly; others said they aid ICE's mission of imposing immigration laws.
The debate among a few employees over the problem changed into heated, in step with a source in the enterprise. Other tech corporations, which include Google and Microsoft, have also been goals of worker activism regarding their contracts with government corporations. Amazon has heard other grievances from its staff as well; hundreds of staffers have signed a petition pressuring the agency to take action on climate exchange, and a number of the signatories will be a part of Amazon warehouse workers in a Prime Day strike in Minnesota on Monday.
In June 2018, a group of worried Amazonians sent a letter to Jeff Bezos and Andy Jassy, stating that AWS:
Cease sales of surveillance technology to law enforcement and authorities agencies. Stop imparting infrastructure to Palantir and other Amazon companions who permit ICE, and Implement sturdy transparency and responsibility measures for the sale and use of our offerings. Since then, the employer has shied away at each possibility of acknowledging this letter signed by more than 500 personnel. When confronted on those questions at corporation hands, Andy Jassy said, "we experience terrific and truly strongly approximately the value that Amazon Recognition is supplying our customers of all sizes and forms of industries in regulation enforcement, and out of regulation enforcement."
More these days, he delivered that "Just because tech can be misused doesn't imply we must ban it and condemn it", evaluating Recognition to a knife: "you can use a knife in a superstitious manner". As Amazonians, we're informed to take Ownership of our work, which means we "by no means say 'that's not my job'". Passing the buck on duty for the results of our work is not Ownership. Our demands have grown to be even more pressing, given recent news. The US authorities have been detaining people, including younger youngsters, and awareness camps under bad conditions. Reports of defined severe overcrowding parentheses one facility retaining 900 people and an area layout for best 125), freezing temperatures (centers are often referred to as "healers" or "ice containers"), and cruelty from guards at these detention centers.
When participants of Congress visited a facility lately, they learned that detained women were "instructed by dealers to drink from the toilets" if they desired water. This is a frightening violation of human rights – and it's powered through AWS. Palantir, which runs on AWS services, provides the technical infrastructure utilized by ICE to gather and method facts about humans targeted for deportation. A 2016 court disclosure found out that Enforcement and Removal Operations (ERO), the primary deportation arm of ICE, uses Palantir's structures to acquire statistics for its instances.